This site is funded by the Northern Ireland Housing Executive through DSD's SPOD Programme.
(Small Pockets of Deprivation Funding)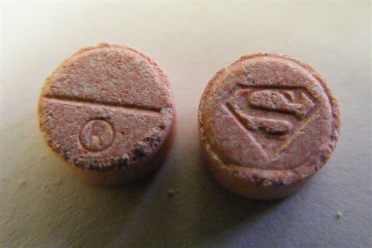 Police Scotland warning over

'Superman' 'ecstasy' containing PMA

Police Scotland, West Area STOP Unit (Glasgow) are reporting a dangerous 'ecstasy' type tablet currently in circulation. The tablets are pink with the 'Superman' logo on one side and a 'half score' line and ® logo on the reverse. Some of these tablets have been recovered, examined and found to contain para-Methoxyamphetamine (PMA).PMA can be toxic especially at high doses or when combined with other drugs and alcohol. It has previously been connected to a number of serious adverse reactions and fatalities. If anyone has come across these in Northern Ireland, please send any information to DAMIS@hscni.net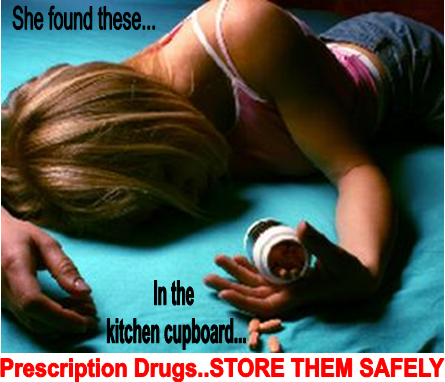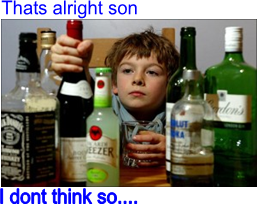 DON'T TURN A BLIND EYE
TO DRUG DEALING
BENMORE, TAUGHMONAGH, ERINVALE, ORPEN - COMMUNITIES AGAINST DRUGS
DON'T TURN A BLIND EYE TO DRUG DEALERS!
TURN THEM IN!
Drug dealers continue to operate in the Finaghy & Taughmonagh area
Police, acting on information from local residents, have carried out a number of successful drugs raids on properties in this area over the last few years, which has helped to protect our community from the dangers of drugs and drug dealers.
Unfortunately profits made from selling drugs far outweighs the risks of being caught, so there are usually many individuals with no love or thought for the community waiting and willing to supply drugs.

Drug dealers can be young, old, male or female. Drug dealers can become embedded in communities such as Finaghy & Taughmonagh. They can build a network of users or "close friends" who become reliant on his/her drugs. These "friends" are then used to reflect attention away from his/her drug dealing activities. Indeed, all too often, drug dealers garner support from within their community to question and undermine other individuals, community groups, statutory organisations and the police who are committed to tackling the scourge and dangers of drug dealing.
Those with a history of drug dealing
find it virtually IMPOSSIBLE TO STOP, unless they go to JAIL or undergo a SUPERVISED PROGRAMME of rehab and help.
Drug dealing is BIG MONEY! and drug dealers think it is EASY MONEY!

Children and young people in this area are targets for drug dealers like this, who will cash in on their vulnerability.
Think about this....are you suspicious or aware of anyone residing in this community who could be a drug dealer?
MAKE NO MISTAKE!
your family, children or grandchildren could be their next victim!
Have you seen anybody acting suspiciously in this area?

Are you aware of anybody living beyond their means?

Do you see a large number of callers to a particular property or place in the area?

Have you overheard anything in bars? clubs? shops?

or other social centres? relating to drug dealing?

(Term like blues, yellows, grams, ounce, E's, skunk, grass, weed are all associated with drugs)

Do you know someone who has drug problems and needs help?
THIS IS NOT TOUTING OR INFORMING!
RATHER IT IS ABOUT SUPPORTING AND PROTECTING
OUR COMMUNITIES FROM DRUG DEALERS!
DON'T TURN A BLIND EYE!
(Any suspicions you have, no matter how small, should be reported to the police)
PROTECT YOUR CHILDREN AND FAMILY!
REPORT SUSPICIOUS ACTIVITY, DRUG DEALERS AND ABUSERS ANONYMOUSLY AND IN TOTAL CONFIDENCE TO
CRIMESTOPPERS ON 0800 555 111
OR CONTACT
LOCAL POLICE AT LISBURN ROAD ON 0845 600 8000

DON'T TURN A BLIND EYE
TO CANNABIS ABUSE

BENMORE, TAUGHMONAGH, ERINVALE, ORPEN - COMMUNITIES AGAINST DRUGS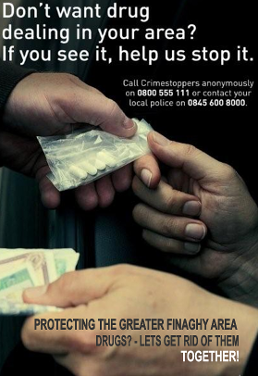 CANNABIS - DON'T BE DOPED.......
Contrary to popular belief, cannabis use is usually the first step on a path to addiction leading to experimentation and use of even more dangerous and addictive drug use. Turning a blind eye, or choosing to accept a drug dealer's interpretation and myth that this drug is harmless isn't good enough.


Children as young as 10yrs old are targeted and supplied by drug dealers.
Some adults, including parents, smoke and take cannabis openly in front of children and young people.
All too often crime is committed to fund the use of cannabis addiction. There are also examples where parents are forced into handing over hundreds of pounds to drug dealers to pay debts built up by children addicted to cannabis.
Children have also handed over game consoles, laptops and mobile phones to drug dealers as payment for cannabis and other drugs. All too often these expensive articles are valued at £20 to £30 pounds to drug dealers. Illegal money lenders also benefit from drug dealing. Those with cannabis addiction will borrow money to sponsor their habit or settle debts to drug dealers.
Cannabis is the most widely-used illegal drug in Northern Ireland, but there's a whole lot more to learn about it, and what it does to you.
Cannabis has a number of different effects
. It is classed as a sedating and hallucinogenic drug. Cannabis can freak you out - it can cause feelings of anxiety, suspicion, panic and paranoia.
For people with illnesses such as schizophrenia, cannabis can cause a serious relapse. Regular cannabis use is known to be associated with an increase in the risk of later developing psychotic illnesses including schizophrenia; and if you have a family background of mental illness, you may also have an increased risk. Cannabis can affect the way the brain works. Regular, heavy use makes it difficult to learn and concentrate and research has linked cannabis use to poor exam results. This is a potentially serious risk if you're young, when the brain is still developing. People who take cannabis have problems with motivation. Smoking cannabis can make asthma worse, and cause wheezing in non-asthma sufferers. It can increase the heart rate and affect blood pressure, which can be especially harmful for those with heart disease. It is reported that frequent use of cannabis may affect fertility. It can cut a man's sperm count and can suppress ovulation in women. If you're pregnant, smoking cannabis may increase the risk of your baby being born smaller than expected.


Cannabis is a Class B drug – it's illegal to have for yourself, give away or sell.
Possession is illegal whatever you're using it for, including pain relief.
The penalty is up to five years in jail.
Supplying someone else can get you fourteen years and an unlimited fine.
Supplying your mates, even if you give it away,


is also considered 'supplying'
under the law.
DON'T TURN A BLIND EYE!
PROTECT YOUR CHILDREN AND ALL OUR YOUNG PEOPLE!
REPORT CANNABIS DEALERS AND ABUSERS!

New or existing groups, eg neighbourhood watch etc, are more than welcome to join this site, as are volunteers who may like to get involved in any of these initiatives. Please use feedback section if you would like to volunteer, become involved or simply leave ideas and suggestions for the content of this website.