This site is funded by the Northern Ireland Housing Executive through DSD's SPOD Programme.
(Small Pockets of Deprivation Funding)
This page is currently being updated
Our statutory partners currently include the Northern Ireland Housing Executive, PSNI and Belfast City Council. They all have an important role to play in our community led partnerships.
Each organisation has responsibilities for dealing with crime and anti-social behaviour, so it is important that they all work together for the benefit of the Benmore, Taughmonagh and Orpen communities.


Community representatives on the greater Finaghy Policing and Community Safety Partnership exercise a level of accountability with all the statutory partners by monitoring their performance when dealing with crime and anti-social behaviour and ensuring whenever possible, that the statutory partners communicate and work in partnership with each other to reduce local crime and anti-social behaviour problems.


Community representatives also have a responsibility to garner support and co-operation from local residents for policing and community safety initiatives and other related activities such as improving relationships between residents, police and other statutory agencies, encouraging residents to report crime, anti-social and suspicious behaviour and providing information to local residents in relation to crime prevention information and up to date crime statistics




NIHE South Belfast District
Tel: 03448920900
The Northern Ireland Housing Executive is a statutory agency that has a significant role to play in combating anti-social behaviour. The Housing Executive's definition of Anti-social behaviour is;



"when the behaviour of households or individuals in a neighbourhood

adversely

affects other people's use and enjoyment of their home

or

neighbourhood"

"In its most extreme form, anti-social behaviour can threaten

the physical or mental health, or safety and security of individuals"
Examples of anti-social behaviour can range from intimidation and racism to noise and boundary disputes. In addition to nuisance to neighbours, the Housing Executive's current general conditions of tenancy stipulates that the tenant must ensure that other specific obligations are not broken. These obligations might involve for example, the state of repair and maintenance of a dwelling, or the parking of vehicles. They can, in certain circumstances, be interpreted as anti-social behaviour, if they result in nuisance or annoyance to neighbours and impact on the use and enjoyment of their home. It is important to note that the Housing Executive have a duty of care to their tenants and as such can take action against homeowners or privately rented occupiers who cause anti-social behaviour that impacts on Housing Executive tenants.
Whether its playing loud music at all hours
of the day and night, vandalism or
harassment, anti-social behaviour cannot
be tolerated.
The Housing Executive believes that
anyone who is causing distress, fear,
nuisance and annoyance should take
responsibility for their actions
.


The Housing (Northern Ireland) Order,
2003 gives the Housing Executive stronger
powers to deal with antisocial behaviour:


Possession Proceedings
The grounds for seeking possession of a NIHE property due to anti-social behaviour have been widened. They now include:
Nuisance caused by visitors to a tenant's home

Nuisance caused to anyone visiting or conducting business in an estate

The Executive may now seek possession on grounds of a criminal conviction for

dealing drugs

or other

serious convictions

or on grounds of domestic violence.
Injunction Proceedings
The Housing Executive can now seek an Injunction not only against a tenant but against
anyone
causing a nuisance within the locality of their properties. An Injunction orders a person to stop the anti-social behaviour or not to enter a particular area. The punishment for breaching an injunction may be a prison sentence.
Introductory Tenancies
All new tenancies will be on an introductory basis. Anti-social behaviour during this first year could result in the
loss of the tenancy.
Housing
Anyone who has been guilty of antisocial behaviour could find they are
ineligible
for housing assistance in the future.


The Northern Ireland Housing Executive is committed to improving the quality of life in the greater Finaghy area, but they cannot do it without your help and support. If you are a Housing Executive tenant and you have a specific complaint about anyone causing a nuisance in your area, contact David Elliot at the Northern Ireland Housing Executive South Belfast Office as soon as possible on 03448920900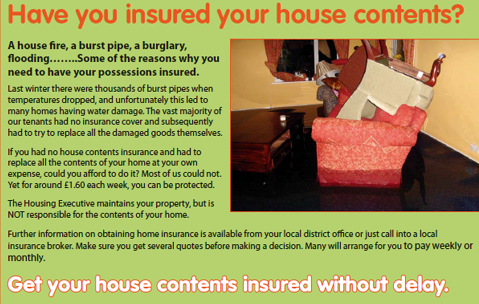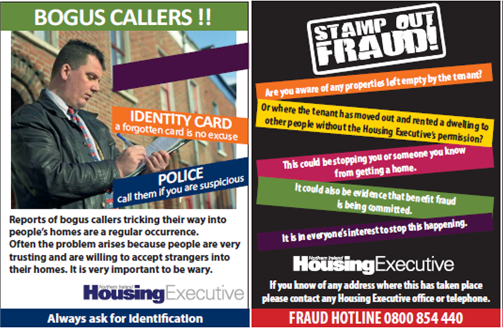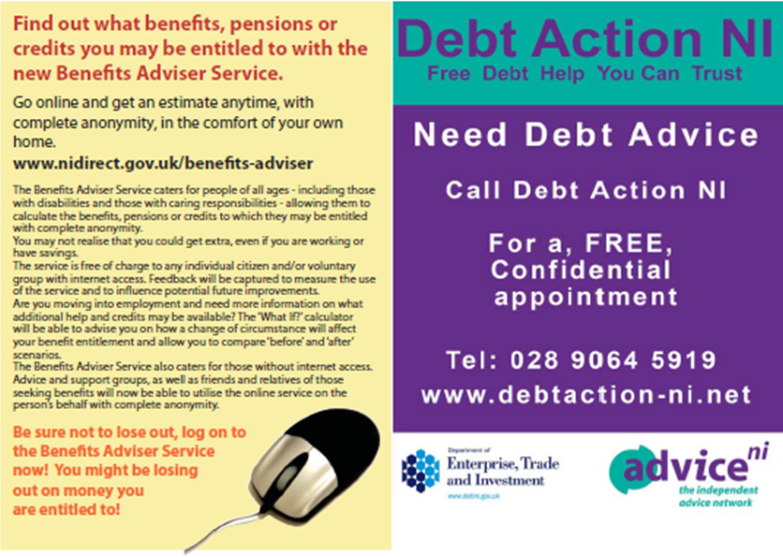 REPORTING CRIME

& ANTI-SOCIAL BEHAVIOUR

Reporting is an essential and core responsibility for residents to help the police and other relevant statutory agencies deal with crime and anti-social behaviour problems. You can report crime and anti-social behaviour in a number of ways but

always remember to

dial 999 in an emergency